Ballet Retreats
Join ballet teacher Clare Novaes for a deep delve into classical ballet at a one-day retreat in tranquil rural surroundings. Whether you are new to ballet or have some previous dance experience, a ballet retreat could be the perfect choice to relax and unwind. Adults of all ages are welcome.
Morning and afternoon workshops include:
Body conditioning warm up
Ballet
Progressing ballet technique
Repertoire
The day includes a nourishing seasonal lunch, with locally-produced refreshments served in the morning and afternoon. In between ballet workshops we make time to explore our wonderful surroundings with a rejuvenating nature walk. 
Scroll Down to See the Retreats Coming Up
Gift Vouchers
Are you looking for a gift that's a little bit different?
Why not treat someone special to a Novaes Ballet voucher! They can choose from one of our rejuvenating ballet retreats, or sign up for a bespoke creative workshop in our new Ballet Studio.
Enquire
New Ballet Retreat Booking Information
Ballet Retreat
EMBRACING AUTUMN 2023 Saturday 4th and Sunday 5th November 2023 10.00am-5.00pm This immersive weekend will [...]
Read More and Sign Up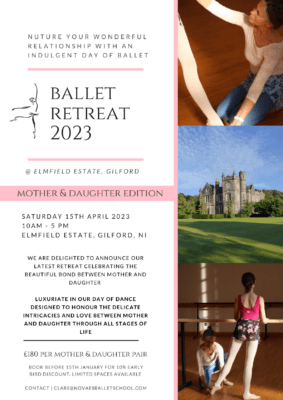 Ballet Retreat
Join us for our latest ballet retreat celebrating the precious bond between mother and daughter. [...]
Read More and Sign Up